spring fling million Sep. 28-Oct 3, 2020
K&N SPRING FLING MILLION DAY 1 RESULTS
What was supposed to be Day 1 yesterday at the K&N Spring Fling Million presented by Optima Batteries for time trials along with the American Race Cars/Todd's Extreme Paint Dragster Shootout, was rudely interrupted by Mother Nature. A persistent rain all day forced a total cancelation. Bristol Dragway staff began hard at work drying the track at 4:00 AM with the plan being to allow each competitor a single time trial followed by eliminations for the first of three $30,000-to-win races.
This race was originally scheduled to be run in Las Vegas in April, but COVID concerns forced Fling promoters Kyle Seipel and Pete Biondo to move it to the east coast, with at the time, no idea when the city of Las Vegas would allow a return to racing. Now with the country slowing reopening and not to forget their west coast customers, a Fall Fling West has been scheduled and will take place October 15-18 in Las Vegas.
Yesterday's Dragster Shootout, which is a limited field of 32 pre-entered racers, will take place at some point during the week. The main event, the Spring Fling Million brought to you by Maytag/Silverstate Refrigeration will be contested on Friday, with a progressive payout that tops off at $1,000,000 depending on car count, but nonetheless having a guarantee of $250,000 to the winner regardless of cars.
Maytag/Silverstate Refrigeration Wednesday had 494 cars making their way down the track for the first round of eliminations. Due in part to that number along with getting started later than anticipated, Fling officials made the executive decision to cancel buybacks for today. The first round took slightly more than four-a-half hours to complete, so it had become a marathon.
And the marathon continued. With 16 cars left to go into round six, the survivors at this point were Noah Lewis, Justin Moser, Caraline McCarty. Kelly Smith, Chuck Roycraft, Ryan Arnold, Logan Diggs, Tom Dauber, Josh Owens, Cory Gulitti, Chet Dragon, Franklin DiBartolomeo, Tarrell Sinkler, Michael Carpenter, Corey Manuel and JR Hodges.
Round six winners were Sinkler, Hodges, McCarty, DiBartolomeo, Smith, Carpenter, Dauber and Manuel.
Quarterfinals, young McCarty defeated Hodges. Sinkler took out Carpenter. Dauber over Manuel, and DiBartolomeo broke to advance Smith.
Semifinals, McCarty over Sinkler and Dauber over Smith to set up a door car versus dragster final round.
And the person who has probably made more runs down Bristol Dragway in a Jr. Dragster than anything else, scored her biggest win when Dauber turned on the red-light by -.005. Seventeen years old and maybe still considered a "girl," but Caraline McCarty has cemented her legacy as a very tough racer with a lot more wins in her future.
All week long, MotorManiaTV.com will be on hand to live stream the action with sponsorship assistance from Mickey Thompson Tires and JEGS. For all info and results, visit
bracketraces.com
.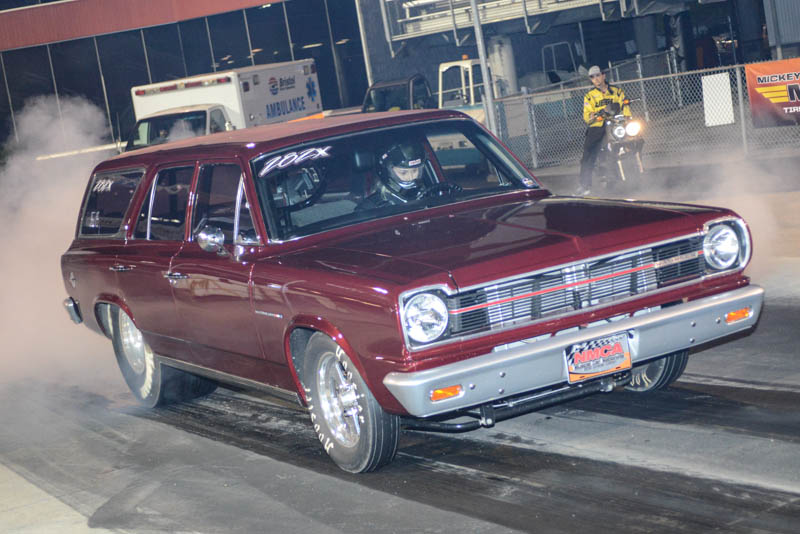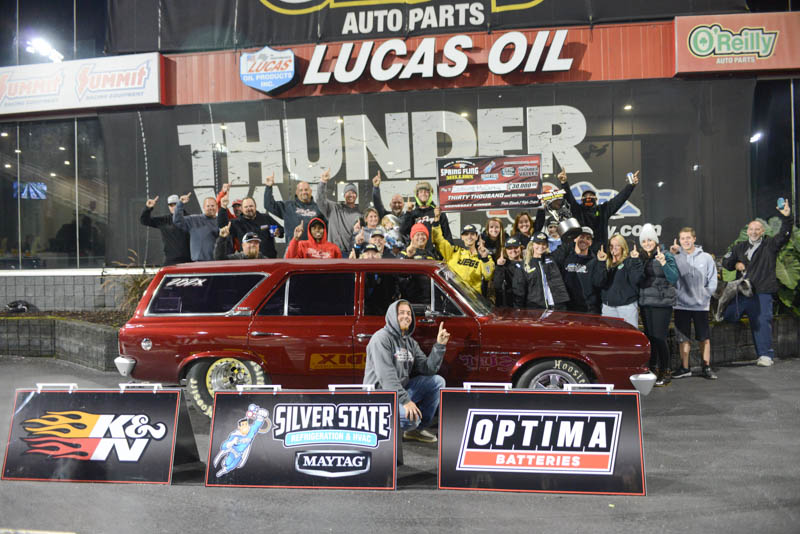 K&N SPRING FLING MILLION THURSDAY RESULTS
After a long day on Wednesday at the K&N Spring Fling Million presented by Optima Batteries, which actually bled into the early hours of today, Day 2 began with the much anticipated Young Guns vs. Has Beens one shot shootout.
Sixteen previously chosen young and has been competitors faced off against one another. The team which turned on the most win lights were presented with a check for $8,000 to be shared courtesy of JEGS. The Has Beens are far from "once was" with a number of former world champions and they represented their team well. But after a 4-4 tie, each team chose one driver to break the tie with one more run. The Young Guns chose Gage Burch, while Pete Biondo represented the Has Beens. And by .001, Burch scored a big win for the Young Guns.
Back to eliminations for the American Race Cars Thursday and the survivors of round five moving into the ladder round six were, Jeremy York, Scott Tate, Jason Rich, Scott Richardson, Colby Fuller, Tim West, Sherman Adcock Jr., Tracy Sons, Shane Carr, JR Barclay, Ken Batchelor, JR Hodges, Spencer Massey, Ivey Brannon, Rayce Kidd, and Corey Manuel. Of those, the round six winners were Massey, Adcock Jr., West, Batchelor, Kidd, Hodges, Barclay and Manuel.
Quarterfinals, Hodges took the reaction time advantage over Batchelor. Former Top Fuel pilot Massey took out former world champion Adcock. Manuel bested Kidd and Barclay took the win over West.
Semifinals was a case of packages. I the first, Massey used a .002 reaction time coupled to a .013 over the dial which added up to a .015 package, while Hodges had a .019 reaction time that left him mathematically ineligible. In the second stanza, Barclay used an .008 package to defeat Manuel who was also mathematically ineligible after a .014 reaction time.
Final round, both Massey and Barclay were close in reaction time but it was Massey who has won numerous times in both the NHRA Top Fuel and Top Alcohol Dragster ranks, a man who laid down a dead-on the dial with a "1" to earn his first and just as important Spring Fling trophy in addition to $30,000!
To close out the day, the American Race Cars/Todd's Extreme Paint Dragster Shootout that was originally scheduled to be run Tuesday, was completed tonight with Rob DiMino taking home to Pennsylvania the beautifully prepared and painted new car.
Million Dollar Friday opens up tomorrow with the event presented by Maytag/Silverstate Refrigeration. One person's life will undoubtedly change with a win on Million Dollar Friday, joining Jeff Verdi, Luke Bogacki, Randall Reid and Peeps Pennington as a winner of the Spring Fling Million.
MotorManiaTV.com has continued to live stream the entire event thanks to Mickey Thompson Tires and JEGS. They'll continue to do so for the balance of the event. For all info and results, visit
bracketraces.com
.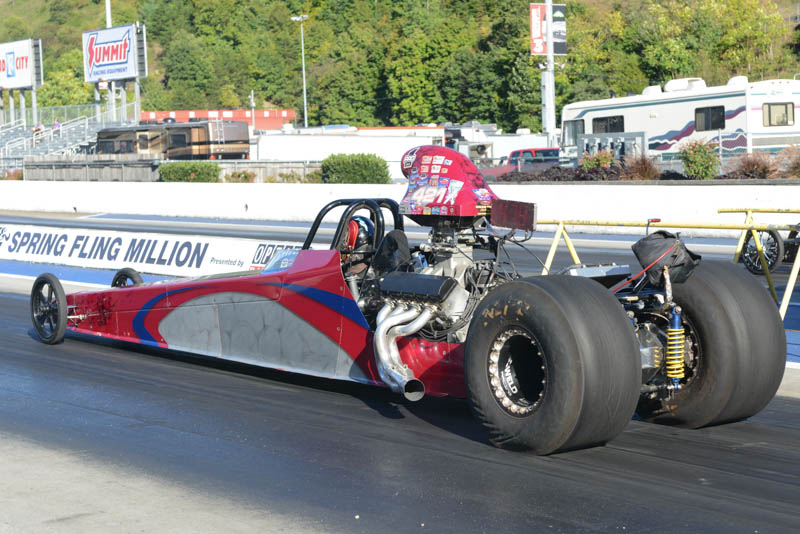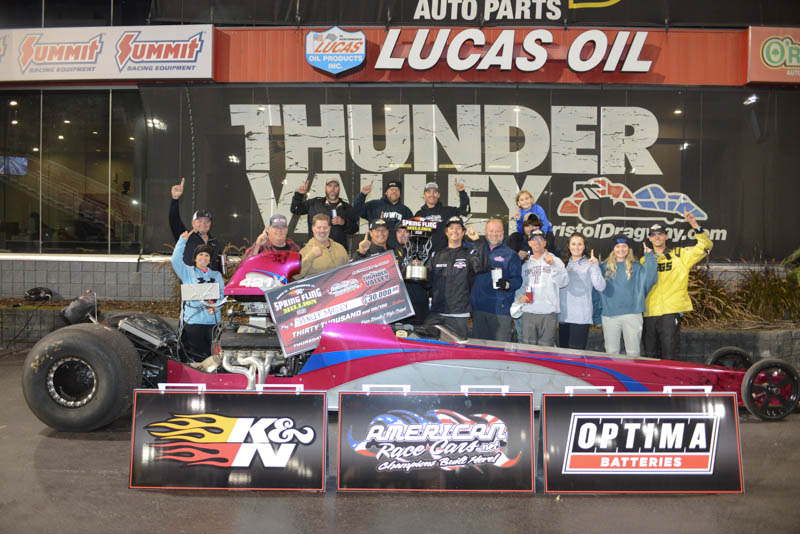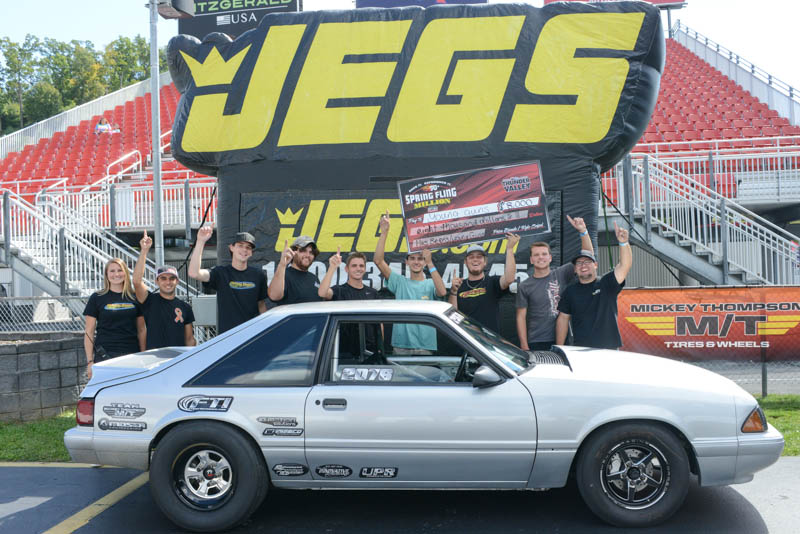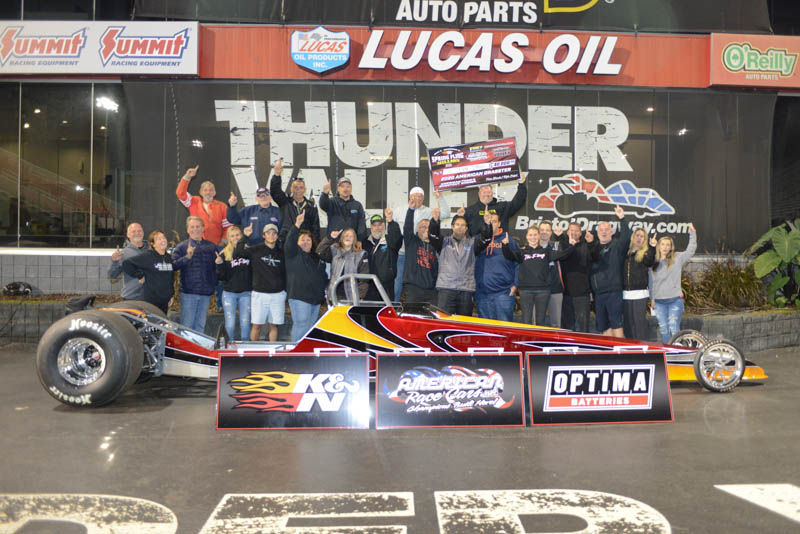 MILLION DOLLAR FRIDAY RESULTS
Million Dollar Friday presented by Maytag/Silverstate Refrigeration at the K&N Spring Fling Million presented by Optima Batteries was upon us. By the end of today, there will have been one racer standing whose life may change when he's added to the rolls of former Spring Fling Million Dollar race champions; Jeff Verdi, Luke Bogacki, Randall Reid and Peeps Pennington.
With a progressive payout to the winner, the more cars entered in the race, the higher the winner's share goes. Last year, Pennington took home to Texas $375,000. The event is typically held in Las Vegas, where rolling the dice for the big win is normal. Due to COVID restrictions, Fling officials had to move the event to the east coast and a facility, Bristol Dragway, which is first class in every aspect.
First up today was the Brodix Run for the $50,000. Each racer on the property "rolled the dice" and paid $50 for one time run. The racer who lays down a perfect run (.000 RT and dead-on the dial with a "0") gets the 50Gs. If no one accomplishes the task, the first three best packages earn prizes from Brodix and the Fling. Should no one hit the big prize, Fling officials will roll the money over and pay $20,000 to the first perfect package during Million Dollar Friday eliminations.
After five years of running the Brodix Run for the $50,000, it's hard to imagine how many racers have taken a shot at that perfect run. The odds were probably insurmountable, but after so many years of trying, one racer got it done today. Steve Witherow left the starting line with a perfect .000 RT and 660-feet later, he placed his name in the record books in addition to his checkbook for 50-large with a dead-on the dial with a "0".
With the presentation of Witherow's check, a prayer of faith from Racers For Christ's Scott Trent and the playing of the National Anthem, round one began on Million Dollar Friday. Three hours after the first round commenced, a Spring Fling Million record of 349 entries cleared the finish line, taking the first step toward a big payday.
After the second round, there remained 131 racers left in competition. However, falling temperatures forced Fling officials to take account of track temps. "In the interest of safety along with the fact there is a lot of money at stake," said Pete Biondo, co-promoter, "we would rather err on the side of caution and have decided to discontinue racing for the night."
Racing will resume with the third round on Saturday morning. Temperatures are supposed to plummet into the high-30s overnight. Tentatively, Saturday morning will open with the Reaction Time Challenge followed by first round of FTI Saturday's $30,000-to-win. That will be followed by the resumption of the Million Dollar Race to completion. Sunday's rain/travel day will be used to complete FTI Saturday's race.
All of the action continued to be live streamed thanks to Mickey Thompson Tires and JEGS on MotorManiaTV.com. For complete results and information on the Fling brand of races, visit www.bracketraces.com.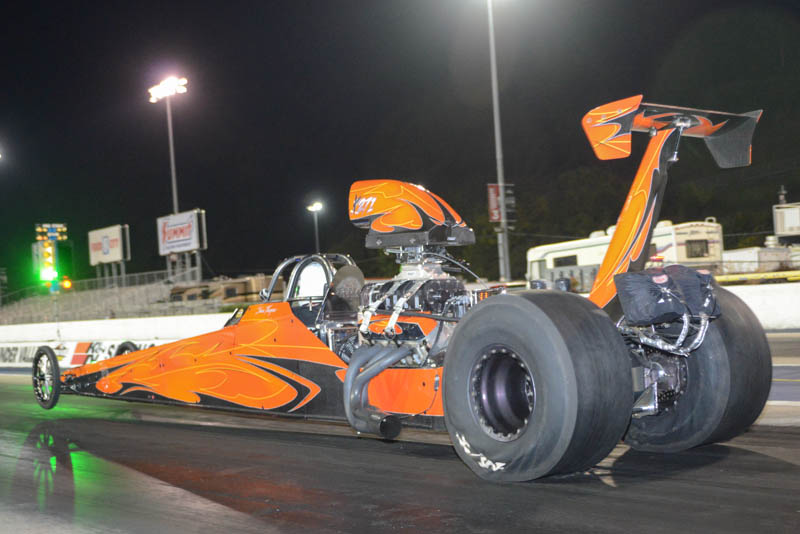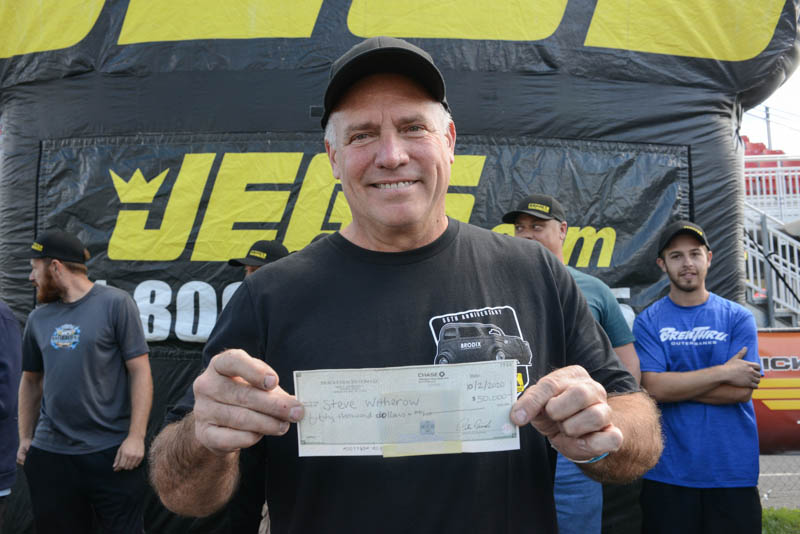 MILLION DOLLAR SATURDAY RESULTS
After a chilly night, what was supposed to be the final FTI Saturday $30,000-to-win race had the schedule somewhat altered yesterday when falling temperatures forced the postponement of Friday's Million Dollar race.
"After the completion of the second round yesterday," said co-promoter Pete Biondo, "we chose to err on the side of caution when track temperatures began to fall. Wanting to give our racers everything we promised, we made the decision to continue the event on Saturday, with some key changes."
Saturday morning first brought the patented Spring Fling Reaction Time Challenge where seven racers earned some cash, the most notable being Mike Barber who scored a perfect reaction time (.000) which earned him $1,000. He was given a second chance and should he have recorded another .000, it would have earned him $10,000, a feat he was unable to repeat, but still receiving the grand. Six other drivers; Dan Fletcher, Allen Byrd, Ken Batchelor, Slate Cummings, Shane Molinari and Michael White; all recorded .00X reaction times to receive $100 each.
Next up was the first round of FTI Saturday's $30-grander with the balance of that race to be completed on Sunday. And back into the third round of Friday's Million Dollar main event with tough racing in every pair of cars.
At the ladder round number seven, nine racers remained, all vying for big money. Scotty Richardson. Tommy Plott, Logan Diggs, Nick Folk, Corey Manuel, Shane Thompson, Kyle Cultrera, Jake Woodring and Anthony Bertozzi.
Round seven and Thompson took out Diggs; Richardson over Plott; Folk over Woodring; and finally Bertozzi over Manuel; with Cultrera on the bye.
Quarterfinals and the winners moving on were Cultrera, Folk and Richardson with Richardson earning the last remaining bye run in the semifinals to advance straight to the final, waiting on either Folk or Cultrera.
In that semi, Folk dispatched Cultrera and the final was set up. Folk versus Richardson. Illinois versus Kentucky. Two former NHRA world champions. Two great families. Both racers who are quite familiar with big dollar bracket racing.
With a 6.02 dial-in, Richardson left first with Folk hot on his tail with his 4.53 dial-in. Three-thousandths of a second separated them in reaction time and by only .003 at the finish line, Richardson added to his resume of championships won.
"This is one I really wanted to win," he said after the final. "I know there's a lot of good young racers out here, but I still have a couple of good runs in me. I have to thank my brother and his sons for putting this car together for me and the only thing which could have made it better, was to have my wife Savannah here with me."
Besides the many events and championships he has won in the past, Scotty Richardson has added his name to the annals of Spring Fling Million history.
Today also marked the announcement that in 2021, the Fling brand will expand to a fourth event to be held August 24-28 at National Trail Raceway in Ohio.
In addition to live streaming the entire event thanks to assistance from JEGS and Mickey Thompson Tires, MotorManiaTV.com also produced several in-depth top end interviews in the later rounds of the race. For complete results and information on the Fling brand of races, visit
www.bracketraces.com
.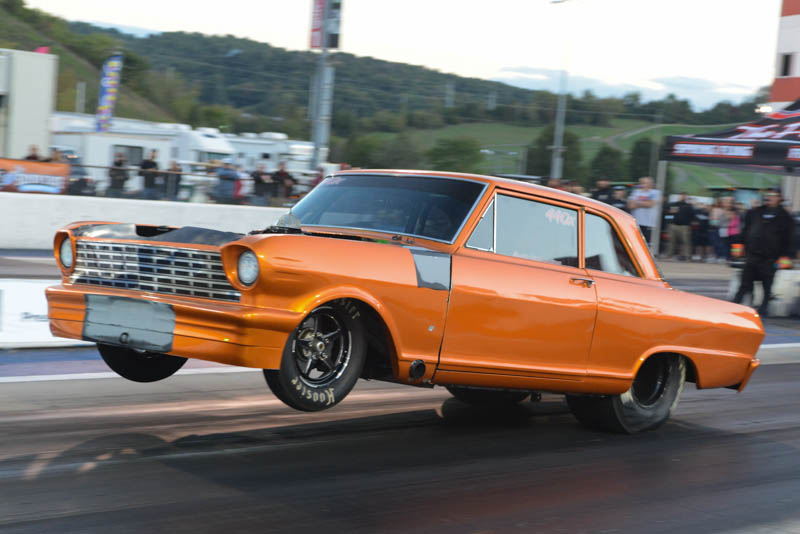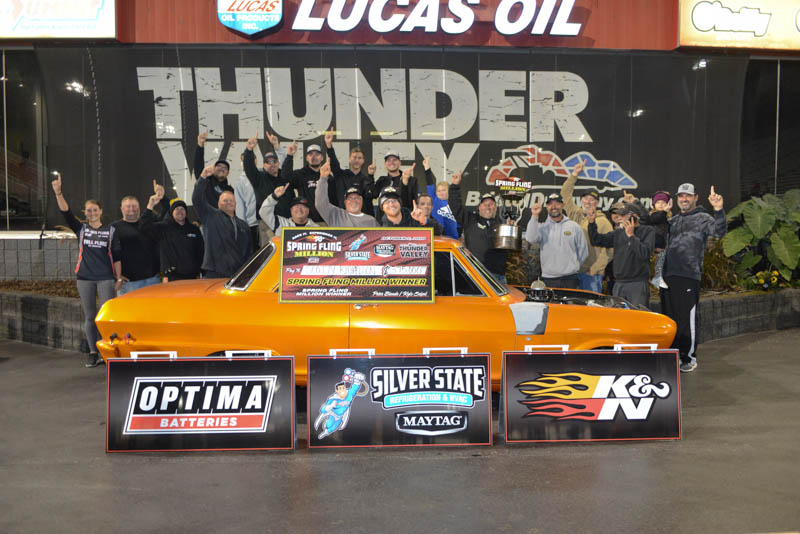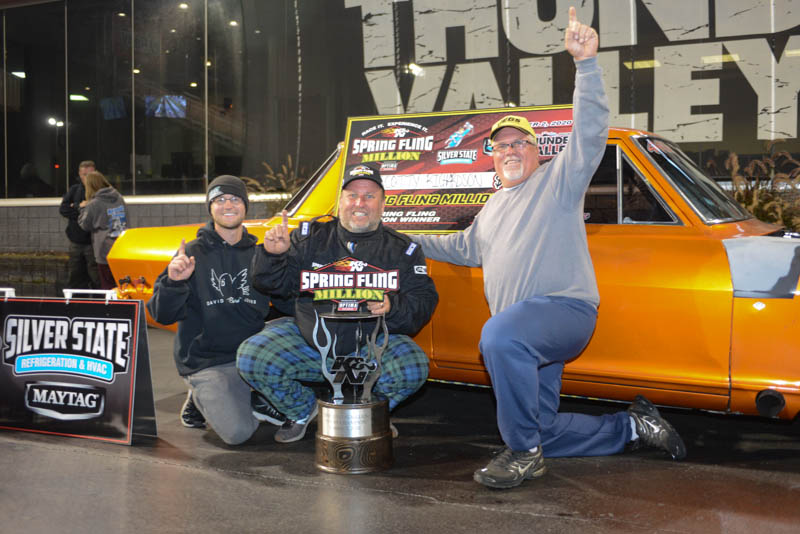 SPRING FLING FINAL DAY RESULTS
Today was supposed to be an open day for travel and/or a rain day. That all changed when low temperatures reached almost record numbers on Friday. Fling officials made the decision to extend the schedule and complete the last remaining $30,000-to-win race today.
Ten cars left going into the seventh round; Billy Leber, Dan Northrop, Mike Barber, Randell Reid, Josh McDaniel, Cory Mong, Shane Maddox, Robbie Hamilton, Duston Wurtz, and Jack Ostrowski.
Seventh round and the survivors were: Barber, Wurtz, McDaniel, Northrop and Leber.
Quarterfinals, Leber defeated Northrop, McDaniel over Wurtz and finally Barber on the bye. Semifinals and by virtue of his .001 RT, McDaniel earned the bye into the final, while Leber faced off with Barber, who has been on a tear of .00X reaction times including his perfect RT in the Spring Fling Reaction Time Challenge which earned him $1,000. With identical RT, it was Leber by only two-thousandths to put an end to Barber's 2020 K&N Spring Fling Million presented by Optima Batteries.
Final round, a door car; the Corvette Roadster pseudo door car of Leber; against McDaniel's dragster for $30,000, with lane choice going to McDaniel.
With a slight disadvantage in reaction times, McDaniel drove hard to the finish line forcing Leber to run under his dial-in and taking $30,000 and a Spring Fling trophy back home to Corryton, TN.
"It's been an awesome week," said Pete Biondo. "We had some challenges, but we're so thankful to all the racers who stuck with us and we were able to give each of them what we had promised. Thank you! We're now looking forward to the Fall Fling West in two weeks in Las Vegas. And we're pretty excited about next year's schedule with us adding a fourth event at National Trail Raceway in Ohio."
For news and schedule on the Summer Fling in Ohio, text COLUMBUS to 74121.
A big thanks goes out to MotorManiaTV.com, with sponsorship support from JEGS and Mickey Thompson Tires, for their video work and interviews. The live stream also included the use of a jumbotron screen in the staging lanes allowing all in attendance to watch the live feed of the event in addition to the thousands who tuned in from literally all over the world.
For news about the Fling brand of races, follow
www.bracketraces.com
.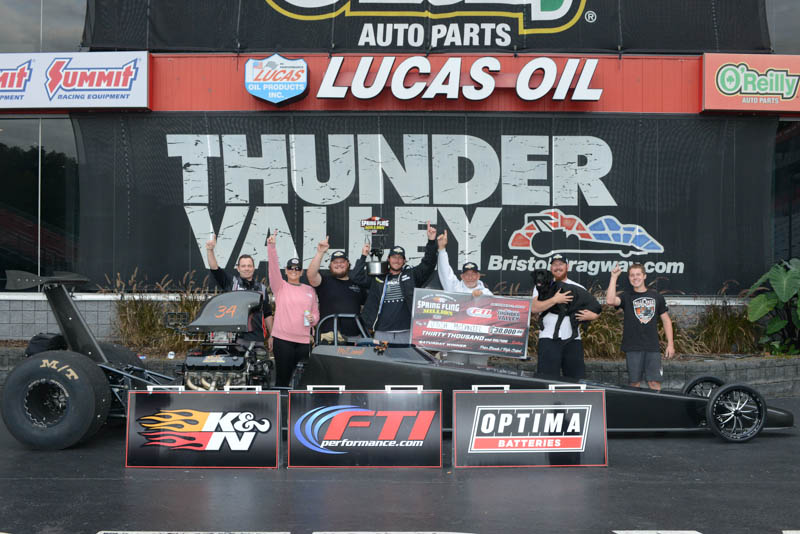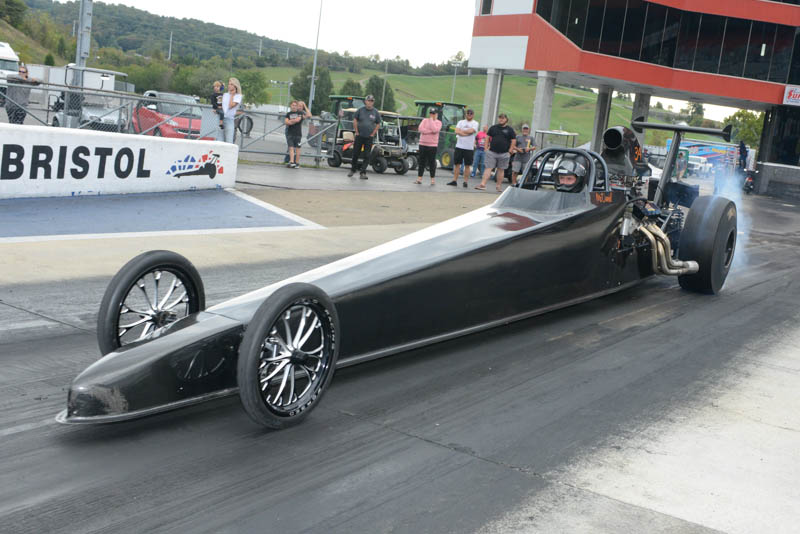 -->
Click here
to view the 2019 Spring Fling Million Race Results.