FALL FLING GALOT SEPT. 22-26, 2020
FALL FLING DAY 1 RESULTS
Day 1, Rob's Automotive Test & Tune Tuesday of the Sparco Fall Fling presented by Optima Batteries opened up at GALOT Motorsports Park in North Carolina. On tap was a Test & Tune session followed by the American Race Cars/Race Tech Dragster Shootout. A random field of 32 racers signed up for a chance at either an American Race Cars or Race Tech dragster. The two finalists would race with the winner getting his or her choice, while the runner-up takes what's left over; not a bad prize in itself. The two semifinalists earned $500.
Eight drivers left after round two: Hunter Patton, Troy Williams Jr., Kevin Glenn, Steven Morrison II, Chaz Silance, Bernie Elmer, Dale Taylor and Gary Williams.
Round three and all drivers on the ladder, first up was brother versus brother, the Williams boys with brother Gary taking the reaction time advantage for the win. Next up was Patton; who has done so much winning this year including winning the Dragster Shootout earlier this year at the GALOT Spring Fling; moving on by defeating the door car of Glenn. Taylor picked the wrong time to have a .095 RT allowing Silance to move on. Finally, the last remaining door car of Ulmer went down in defeat to advance Morrison.
Semifinals, Patton and Silance faced off and by .0003-of-a-second, Silance stopped the Patton train. In the other half, Morrison turned on the red-light by -.006 to advance Williams.
Final round and it was Williams leaving first by virtue of the dial-in, but turning on the red-light by -.005 to award Silance with the win and his choice of dragster. Silance's choice? The Race Tech product will be going back to Jacksonville, NC, while Williams takes home the American Race Cars.
FST Wednesday begins in the morning for a $15,000-to-win day. All the action is being live streamed on the MotorManiaTV.com website sponsored by JEGS and Hoosier Tires giving you bracket racing on the big stage. For all info and results, visit
bracketraces.com
.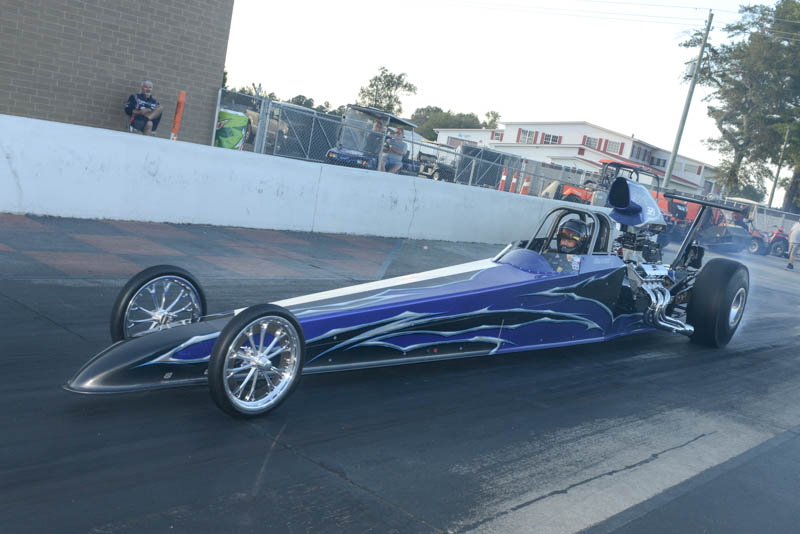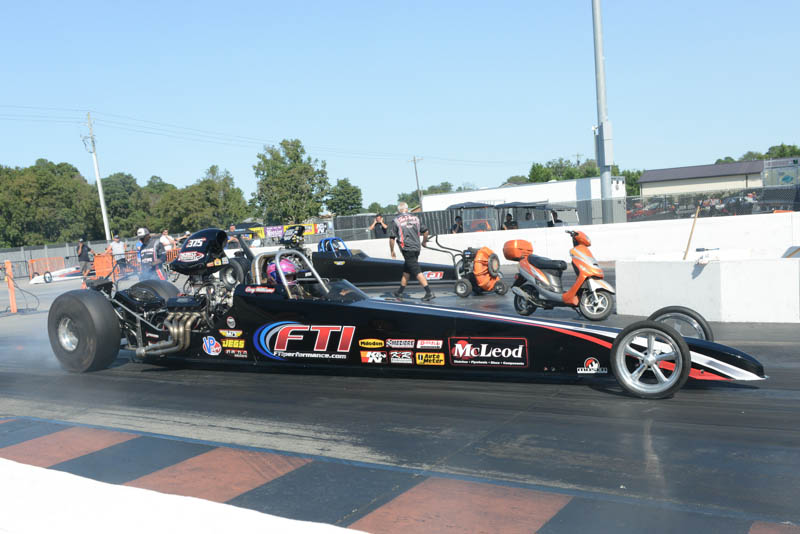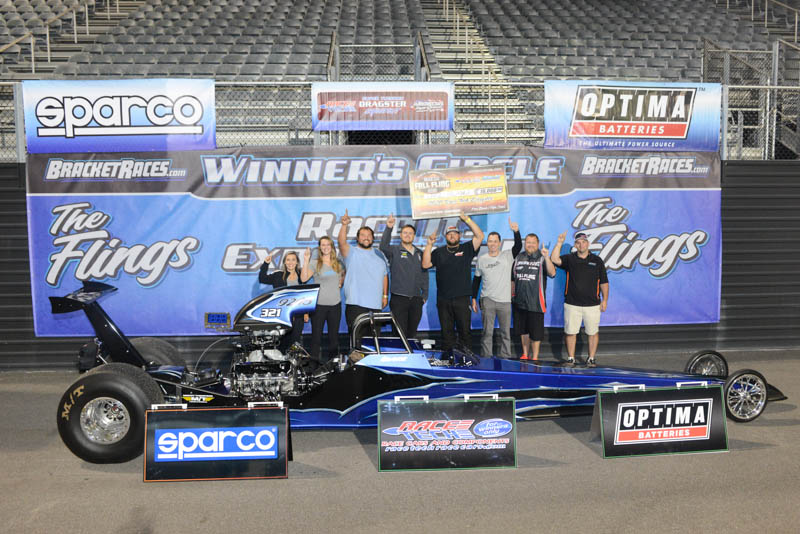 FALL FLING FST WEDNESDAY RESULTS
FST Wednesday opened up to cloudy skies but the racing continued all day. Today's schedule called for a $15,000-to-win race and as of this morning, 396 racers came through the gate to compete.
One maybe unique feature to this event was the use of special numbers for each entrant, each with the Fling logo watermarked within. "One of the problems in the tower revolves around the various style car numbers an actually where the computer operator is situated," said co-promoter Pete Biondo. "The computer operator then has to decipher the different styles and input them into the computer for each run. Kyle [co-promoter Seipel] and I chose to have car number stickers made for each entrant. The numbers were all a standard size and shape making it very easy for the computer operator to read. It's actually has been done before at certain NHRA Bracket Finals for much the same reason."
Biondo personally greeted each racer at the front gate and once the concept was explained, each one of them welcomed the effort in order to have the event run even smoother than it already does. "I can't thank the racers enough for their cooperation in this," added Biondo. "It definitely made the tower run so much smoother."
One time run was allotted for all with this being the last time run scheduled for the rest of the week. From here on in, only new entrants would be allotted a time run. Everyone else goes right into eliminations for Thursday, Friday and Saturday's races.
Following the time run, a word of grace, singing of the greatest song in America, the Star Spangled Banner, and racing was on. What started at 12:20 in the afternoon, by the hour of 8:00 we were down to 14 drivers left for the ladder round; Colby Fuller, Stace Shrawder, Noah Carpenter, Bennie Ulmer, Gary Williams, Tracey Wiggins, Mark Siegel, Greg Duffield, Kevin Brannon, Holden Dial, Shane Maddox, Kyle Cultrera, Jamie Holton, and Stephen McCrory.
Round six and the survivors were Wiggins, Maddox, Duffield, Brannon, Cultrera, Williams, and Fuller. With seven cars left in the quarterfinals, a .003 reaction time by Fuller with give him the bye into the semifinals.
Quarters and first up was Williams versus Duffield with Duffield turning it red to advance "G-Dub" Williams. Maddox faced off with Cultrera and Maddox also turned on the red-light advancing Cultrera. Brannon and Wiggins and again, the red-light bit Wiggins. With Fuller taking his bye run, according to the ladder, it makes the semifinals a door cars versus door car and dragster versus dragster match up, guaranteeing a door car versus dragster final round.
First up for the semis and Fuller ran under his dial to advance Williams who was coming off a runner-up performance in last night's Dragster Shootout. Next up was Brannon and Cultrera, a double run-under affair with Cultrera getting the win light.
For the final, Cultrera had lane choice and chose to move over the left lane forcing Williams out of his preferred lane. When the 'Tree turned green, it was Williams with a .002 reaction time but a run-out by .003 handed Cultrera his first Fling win.
Moser Engineering Thursday opens up tomorrow with the first of two $25,000-to-win races. The action continues to be streamed live by MotorManiaTV.com thanks to sponsorship from Hoosier Tires and JEGS. For all info and results, visit
bracketraces.com
.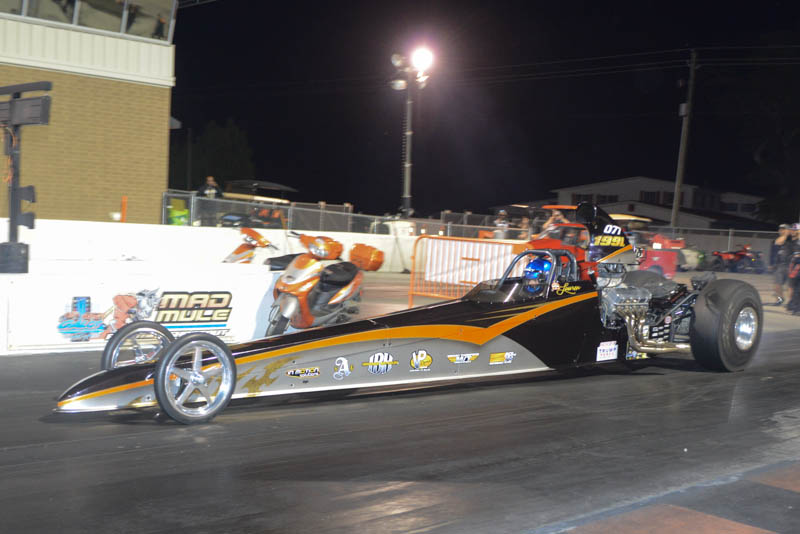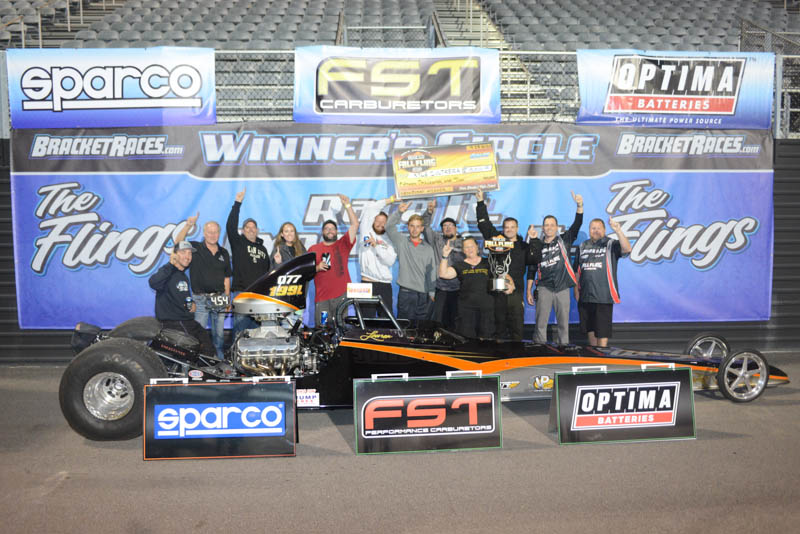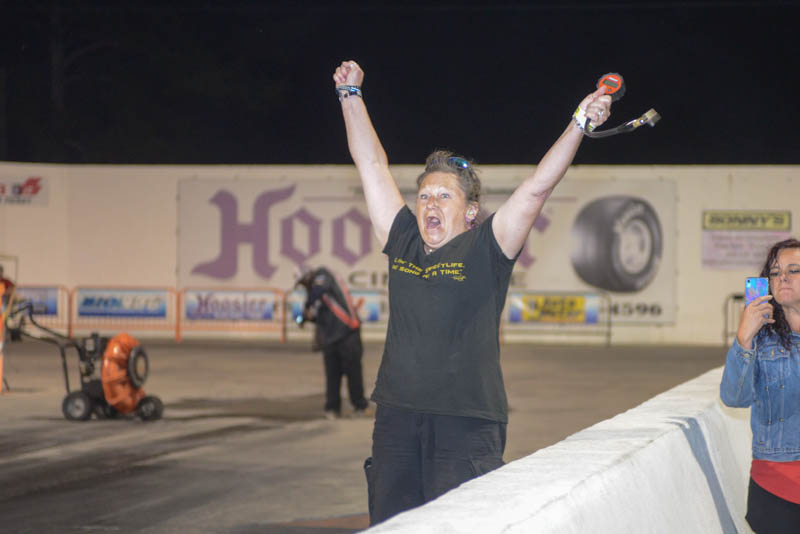 HISTORIC FINAL SETTLES THURSDAY'S FLING
Moser Engineering Thursday at the Sparco Fall Fling presented by Optima Batteries opened up to cloudy skies with just slight bits of precipitation dropping out of the skies. A large group of new entries showed up this morning and received a time run while the balance of entrants waited for the first round to begin.
Consistent showers plagued for the better of an hour or so, but eliminations finally began around 10:00 in the morning, and continued on all day without any more "stuff" falling out of the sky.
Round six survivors moving into the ladder round with nine cars left; runner-up the last two nights Gary Williams, AJ Ashe, Kevin Pollard, Andy Dolan, last night's winner still hanging strong Kyle Cultrera, Vinny DiMino, Mike Bloomfield Jr., Cody Wiggins, and Michael Paschal. Dolan's perfect .000 reaction time in that round earned him the bye run in round seven.
In round seven, Wiggins ended Williams' night. Pollard turned on the red-light to advance DiMino. AJ Ashe defeated Cultrera for a big win that included him earning the Bounty Award for defeating last night's winner, a set of front wheels from Lindsay Racing Products, and in addition his 006 RT will give him the bye in round eight. Paschal ended Bloomfield's night, and finally Dolan took his bye run.
Round eight, the quarterfinals and Ashe took his bye run to advance him to the semifinals. Wiggins' dragster faced off with Dolan's door car with Dolan using a perfect reaction time for the win. Next up, the dragsters of DiMino and Paschal staged up and DiMino turned on the red-light to move Paschal into the semis.
With each of the remaining drivers already having a bye run, the bye reverts to the best reaction time and with his perfect RT, Dolan will get another bye run with his door car to advance straight to his first 'Fling final round.
Before that final, Paschal and his dragster would meet up with Ashe and his door car to see who would face Dolan in the final. With identical reaction times, Ashe was able to hang on for the win to move his door car to the final marking the first 'Fling final where two door cars will face off for the big prize.
In that historic final, it was over quickly when Ashe turned on the red-light by -.004. Earlier in the week, Dolan was asked if he was going to attend the 'Fling Million contested next week in Bristol. "We'll have to wait and see," Dolan said. We'd have to say his mind is made up after tonight's $25,000 win.
The main event of the weekend, the ATI Performance Friday begins in the morning with a $100,000-to-win race. MotorManiaTV.com continues to live stream the action with sponsorship from Hoosier Tires and JEGS. For all info and results, visit
bracketraces.com
.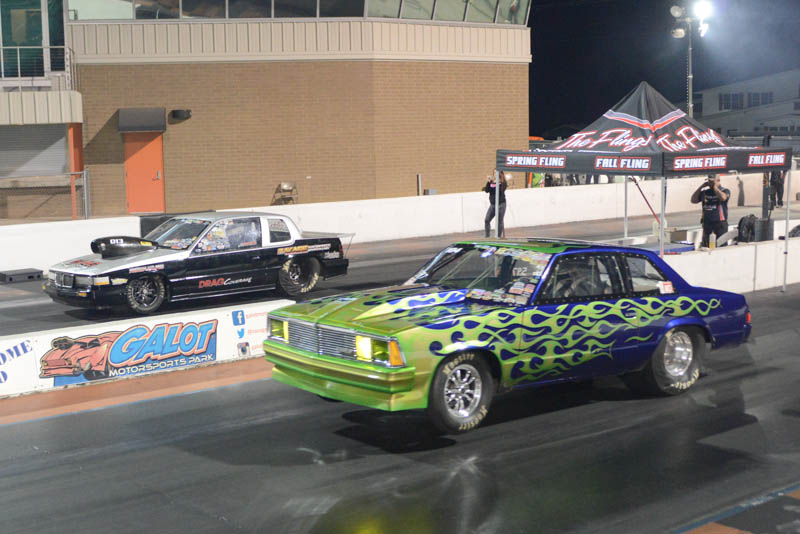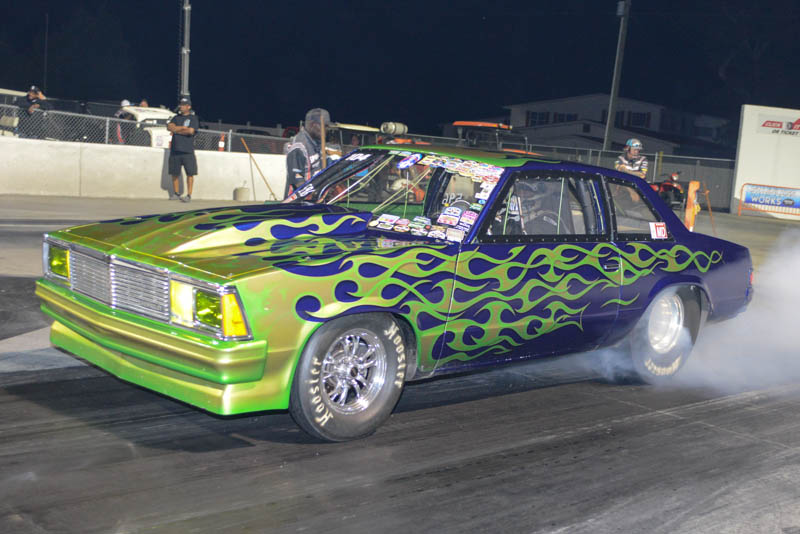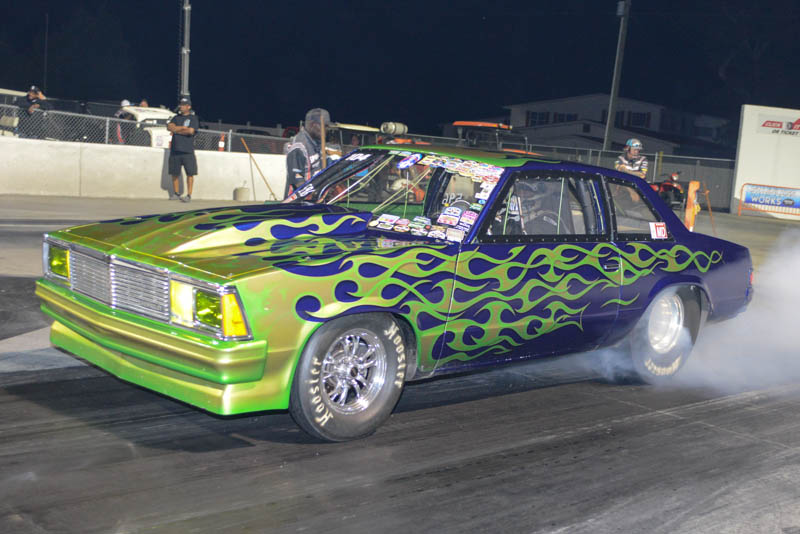 ATI PERFORMANCE FRIDAY WINNER - RAIN
After an historic night, ATI Performance Friday at the Sparco Fall Fling presented by Optima Batteries began with wet weather moving in overnight.
For the first time in 'Fling history, two door cars met up in the final round when Andy Dolan faced A.J. Ashe. Dolan's Chevelle had been on a roll all day but Ashe was punch-for-punch on the same journey especially after defeating Wednesday's winner Kyle Cultrera in round seven to win the Lindsay Racing Products Bounty Award for defeating the previous night's winner.
Just to recap, the final was over just as easy as it began when Ashe turned on the red-light to hand the West Virginian Dolan his first 'Fling win.
Consistent rain plagued the morning forcing officials cancel the day's activities. "We do not see a window opening up to have the track dried and get any racing in today," said Kyle Seipel. "The racing action will pick up tomorrow morning at 8:30. GALOT Motorsports Park has the best track drying equipment possible and depending on how long it takes in the morning to get the surface ready, we'll be able to announce a more specific event schedule. We still have a ton of Fling money and prized to give away and are looking forward to a lot of great Fling racing action."
MotorManiaTV.com will continue to live stream the action with sponsorship from Hoosier Tires and JEGS. For all info and results, visit
bracketraces.com
.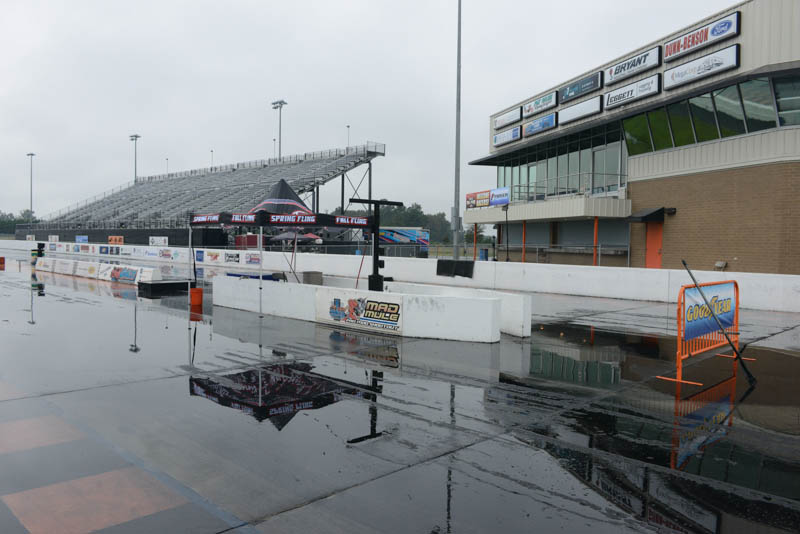 FALL FLING SATURDAY RESULTS
After Friday's complete washout thanks to Mother Nature, Saturday morning opened with more of the same. Once the rain subsided, GALOT Motorsports track personnel had all hands on deck for the drying procedures.
With two races still scheduled to be completed with only two days to do so, even though Sunday was scheduled as a travel day, Fling officials had to make some tough decisions. It was decided to combine ATI Performance Friday and JEGS Saturday into one race. The $100,000 Friday and $25,000 Saturday winner's share were combined, which included combining the entire purse, along with doubling up of the round prizes. There also remained quite a bit of prizes left in the Prize Vault which was randomly distributed throughout the day.
With the amount of rain which fell on the facility, naturally things took a little longer than what was expected. A 12:30 start was thought to be safe, but the actual time turned out to be 3:00, with first up the Reaction Time Challenge. Randomly chosen 25 drivers were given a "hit" on the 'Tree. Any .00X RT earned the driver $100 cash. A perfect .000 was worth a cool grand, $1,000 cash. Only one driver scored the perfect run, Tonya Pruett, and she was given one more shot at the 'Tree. Another perfect light would have earned her $10,000. She came oh so close with a .003, but walked away with the grand nonetheless. A.J. Ashe, Ken Batchelor, Noah Carpenter, Larry Chapman, Matt Dadas, Marshall Grooms, Lauren Freer, Jamie Holston, and Wade White each earned themselves $100.
Final eliminations began at 3:30 with the plan to run as many rounds as possible up until the curfew, followed by the balance to be completed on Sunday. As ironic as this year as been in all instances, as the first set of cars sat in the water box while the greatest song in the United States played, the Star Spangled Banner, the Sun broke through the clouds and it was race time.
The Sun didn't last long but racing continued until the completion of the second round. As it was getting closer to the impending curfew, there wouldn't have been enough time to complete another complete round. The decision was made to halt racing for the night. The ATI/JEGS combined Friday and Saturday Fall Fling race will be completed starting at 9:00 in the morning with 128 cars remaining.
At the end of the second round with time still left before the curfew, the Brodix Run For the $50,000 was contested between the best package dragster and door car over the first days of racing. A perfect run (.000 reaction time plus a dead-on the dial with a "0") would earn either driver $50,000 in a one run for the money match. Regardless, a winning run would earn that driver a set of Brodix SR20 cylinder heads. Ironically, both Chuck O'Neil (door car) and Joel Maddox (dragster) qualified for the run-off by posting a perfect run. It was O'Neil's first trip to a Fling event and he was trying to make the best of it. Unfortunately, he turned on the red-light on the run-off to hand the cylinder heads to Maddox.
MotorManiaTV.com will continue to live stream the action on Sunday to completion thanks to sponsorship from Hoosier Tires and JEGS. For all info and results, visit
bracketraces.com
.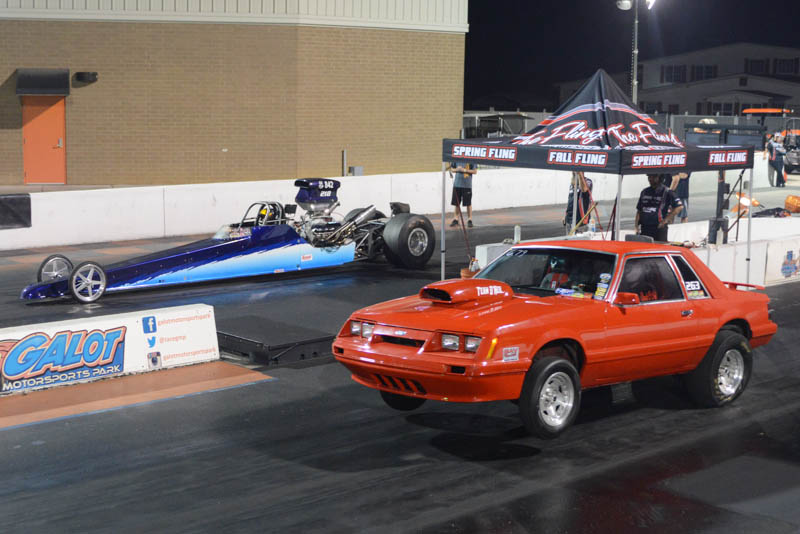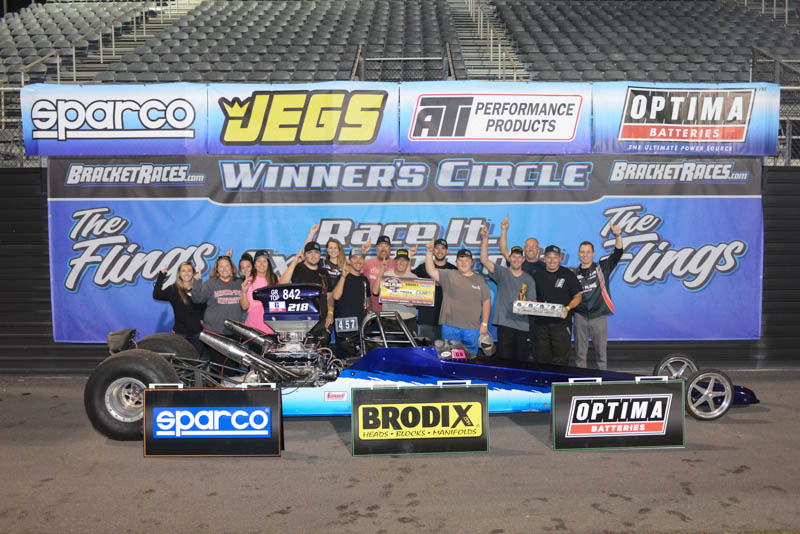 ANOTHER DOOR CAR WIN AT THE 'FLING
Friday and Saturday morning's rain caused a shift in the schedule at the Sparco Fall Fling presented by Optima Batteries at GALOT Motorsports Park. Eliminations for the ATI Friday ad JEGS Saturday races had to be combined to make for one big $125,000-to-win race. Due to eliminations not getting started until late on Saturday afternoon, only two rounds of eliminations were run prior to the curfew hour.
Sunday morning opened to sunshine and final eliminations beginning with the third round of 128 cars left commenced. The Sun quit shining but the racing continued.
At 16 cars and the ladder round, the survivors were John Edwards III, Lester Adkins, Jack Ostrowski, Jon Siegel, Shawn Carpenter, Carey Curling, Josh Luedke, Tommy Cable, Johnny Tolisano, Kevin Brannon, Tommy Plott, Mike Bloomfield Jr., A.J. Ashe, Troy Williams, Bobby Bladen, and Shaun Smithdeal, all moving into round six.
In that round, it was Tolisano, Carpenter, Plott, Bladen, Brannon, Williams, Bloomfield, and Cable, all coming out on the green side for round six.
Quarterfinals and Bloomfield took out Cable. Brannon bested Williams, Tolisano hung in to defeat Carpenter, and finally, Bladen took out Plott. Three dragsters and the one door car of Bladen.
Semifinals. Bladen and his door car did battle with Bloomfield's dragster with the door car coming out on top. Next up, Tolisano turned on the red-light to advance Brannon to the $125,000-to-win Fling final round. Door car against a dragster for all the marbles.
Final round, ATI Performance/JEGS final day event. Bladen had been on point all day and a .011 RT coupled with a dead-on the dial with a "7" was enough to turn back Brannon for the win and the ability to take home $125,000 back to Maryland.
"We can't thank the racers enough who had the confidence in us that we'd give them everything we promised," said Kyle Seipel. "There were some challenges we had to overcome, but the racers stuck with us and did what had to be done to complete the event. We look forward to seeing everyone this coming week at Bristol Dragway for the Spring Fling Million, the first time we've had that event on the east coast and we expect it to be packed."
All week long, MotorManiaTV.com has been on hand to live stream all of the action with sponsorship[ assistance from partners Hoosier Tires and JEGS. They too will at the Spring Fling Million in Bristol this coming week. For all info and results, visit
bracketraces.com
.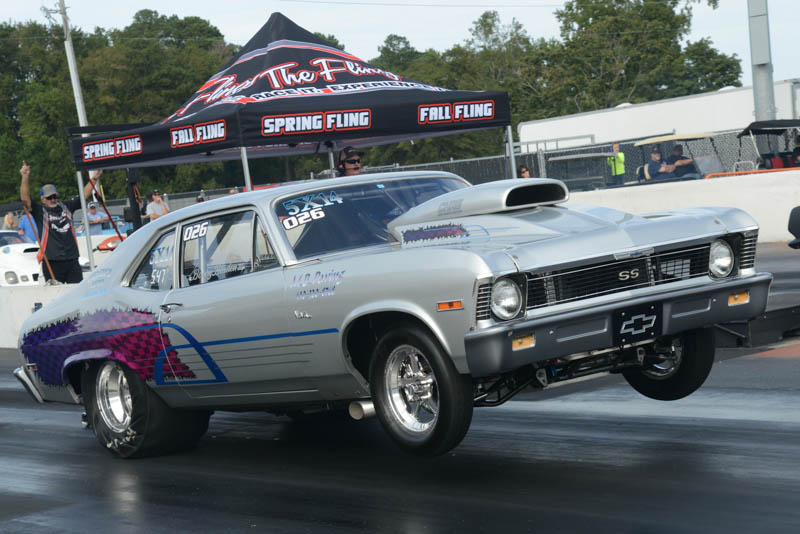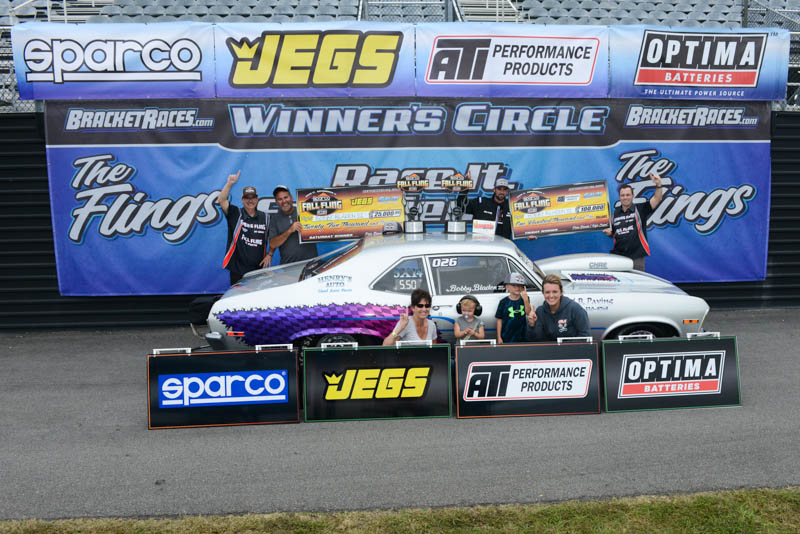 Click here
to view the 2019 Fall Fling Bristol Race Results.